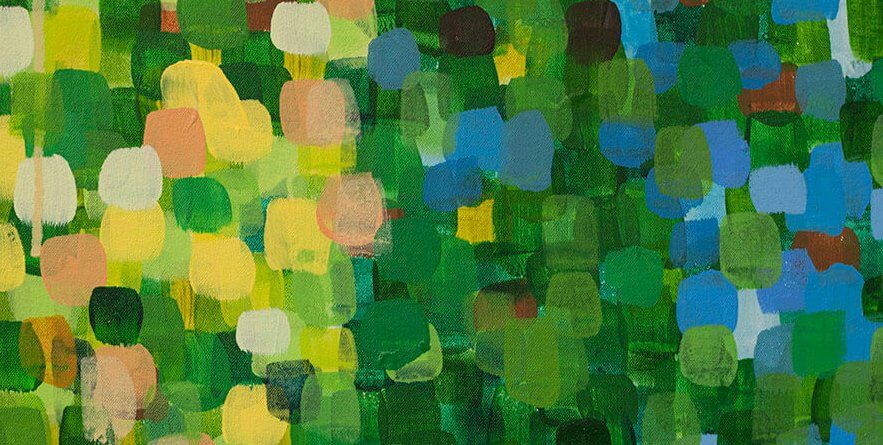 This current project evolved form the "Selfie Disrupter" series of photographic portraits: a reaction and contemplation of the phenomenon of taking "selfies" in front of art. Like Holbein's "The Ambassadors" the backdrop to the protagonists is a display of knowledge and wealth. For those with enough funds you can tag your knowledge of contemporary art plus show off your bank balance by taking a "selfie" in front of a piece of art you have just bought.
My first intent was that the painted backdrops were to be seen purely as a backdrop in a photographic portrait. The art would occur on photographic form. This meant that they had to be suitable for lighting, meaning the paint had to be mostly matt or using metallic and gloss paint working in opposition to the matt paint. I conceptualized that instead of people owning art by using it as their backdrop in their "art selfie" then I would reclaim their 'selfie" by the work only functioning with the viewer's collaboration by taking a "selfie" in front of the painted backdrop. For an open studio weekend I decided to reclaim the "art selfie" altogether by taking tradition photographic portraits with a vintage Hasselblad and the hand painted backdrops.
As the series grew I became aware that I wanted them to be seen and to function as paintings on their own. The backdrops I was painting were manifestations of remembered knowledge of paintings from the great canon of historical paintings. A pivotal painting was a pointillist version of my garden. Painting backdrops not paintings gave me freedom to experiment. By being a backdrop to a portrait then the painting stops being a pastiche. I sought to enable the viewers to put themselves in the painting thereby making a journey into the pleasures that paintings have given me.
Backdrops have been painted for the theatre and since the beginning of photography. My backdrops use this backdrop instinctual knowledge that we have and bring into the conversation art and pattern making. (I was a fabric printer for 9 years.) I have found myself thinking of odd mixtures whilst painting: recently Matisse, Rothko, Pop Art and David Bowie mixed with a colour palette inspired by welsh mountains and east London.
Now I intend these paintings work as paintings that, although work as a photographic backdrop, will also expose the thought that art is the backdrop to our lives.
This slideshow requires JavaScript.